Of Haystacks and Smokestacks
February 28, 2014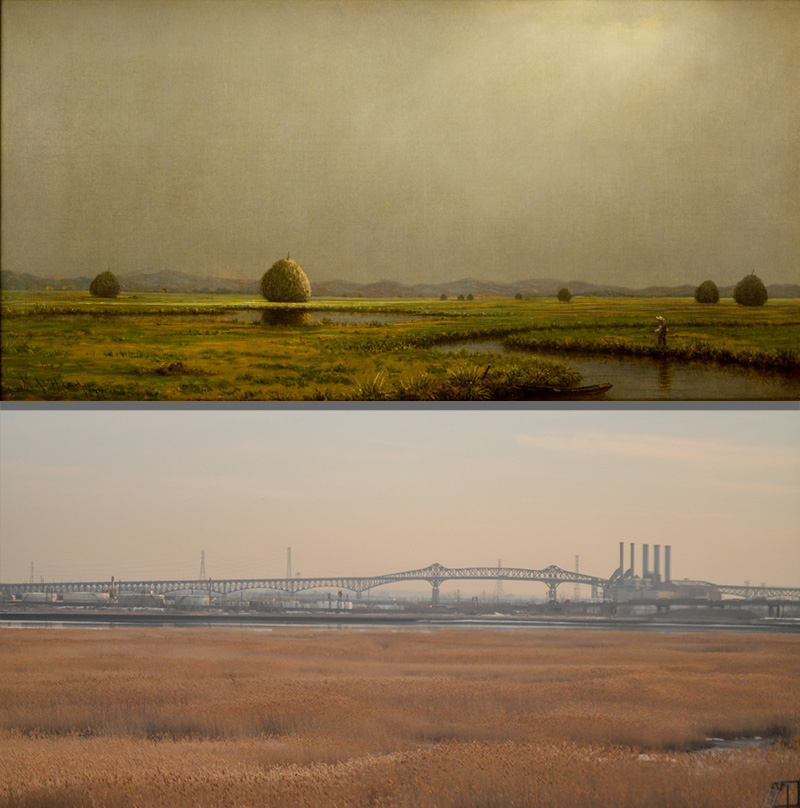 It is said that during Leonid Brezhnev's visit to the United States in 1973, the American officials in charge of ferrying him from New York to Washington, DC were so embarrassed by the polluted New Jersey Meadowlands that they desperately tried to find a route that would bypass them. They failed, and it turned out that Brezhnev thought that the marshes, with their weird, twisty paths and clusters of turtles sunning themselves on heaps of old tires, were great.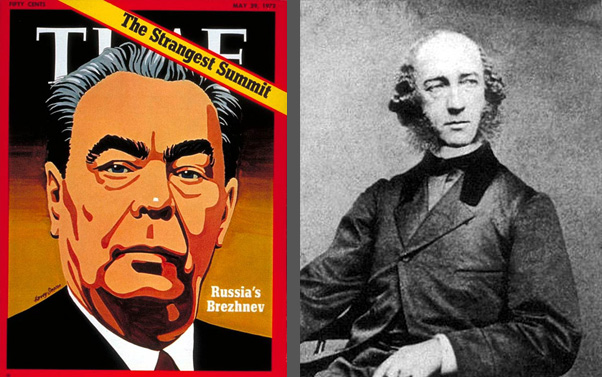 Painter Martin Johnson Heade (1819-1904) thought so, too—137 years ago, anyway. The artist, who appears to have had parentheses of facial hair in place of ears, worked across genres and never achieved the overwhelming success that characterized the careers of Hudson River School landscape painters like Albert Bierstadt and Frederick Edwin Church. However, his paintings are so much in demand on today's market that he's now among the most counterfeited American artists. A good Heade forgery can fetch many thousands of dollars, even if the buyer knows it's a fake. It's easy to see why; I'd take a Heade over a monstrously large Bierstadt any day. His wildlife paintings are brilliant in their color and detail, with jewel-like hummingbirds flitting through dense tropical foliage. The light in his landscapes is hazy and diffused, almost tangible.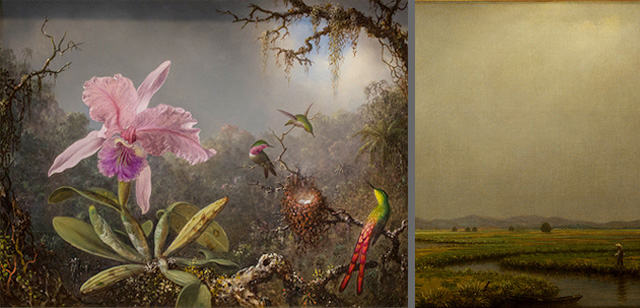 It says a lot about the Meadowlands that an artist so obsessed with natural beauty chose them as one of his major recurring subjects, and it says a lot about Heade that he rendered them in such a serene, isolated manner. His contemporary Mary Nimmo Moran chose instead to include the rising smokestacks of Newark, which for Gilded Age viewers could have inspired pride in New Jersey's modernity, or nostalgia for its fading agricultural past—or both.
Heade's painting probably contains some nostalgia, too. Though he was born in rural Pennsylvania, he spent most of his career amidst the sooty tall buildings of New York City. You would never know this looking at his landscape paintings—modern culture hardly ever makes an appearance in Heade's nature, and he seems to have been utterly uninterested in depicting the built world. His haystacks and fisherman could easily have occupied the same meadow in the same way 200 years prior. It's unsurprising that he studied with the delightfully quaint Edward Hicks, master of doe-eyed cows and stoned-looking lions: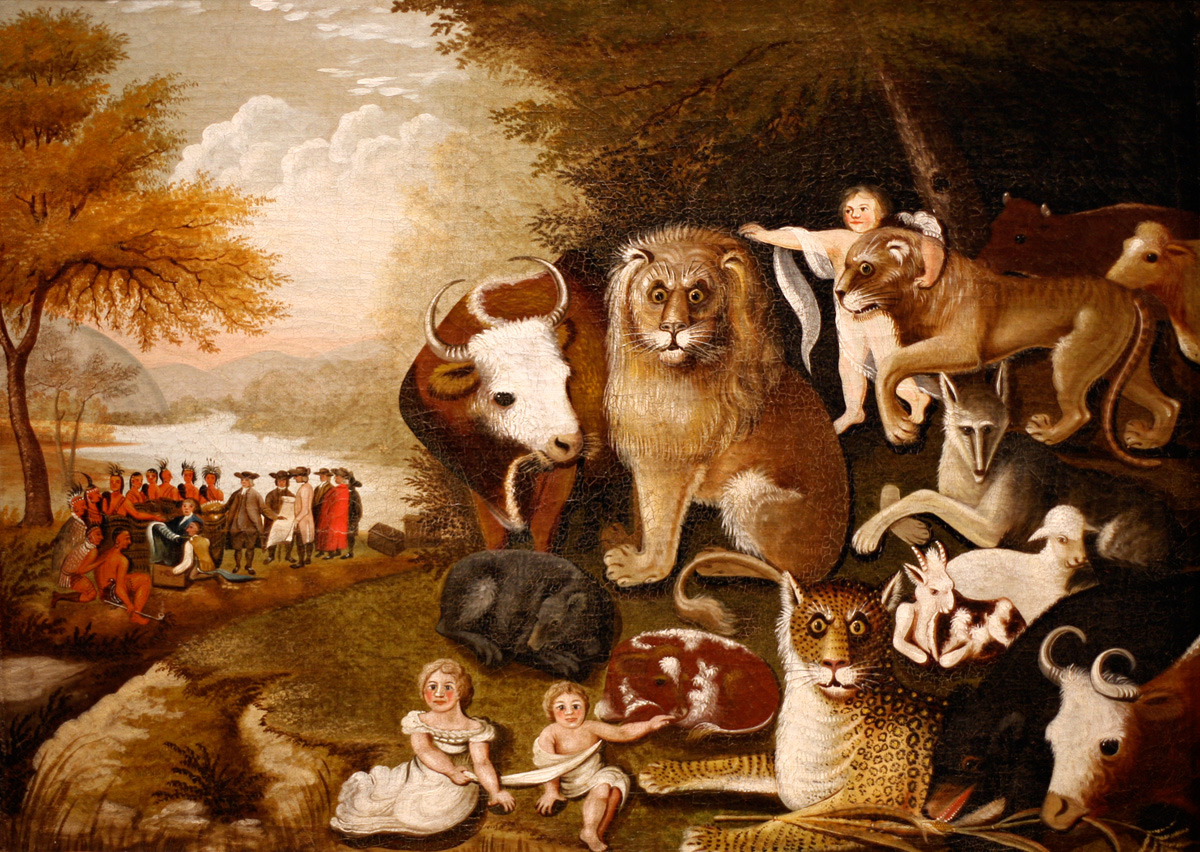 Unbeknownst to Heade, however, and probably to local farmers as well, the Meadowlands are to a great extent a product of the built world. 500 years ago, most of the area was covered with cedar forest, which was cut down by seventeenth-century Dutch settlers for building material. The settlers used the remaining marshy land to cultivate large plots of salt hay, which they used for rope and cattle feed. Thus, the Meadowlands expanded. It's possible, then, that the winding path cutting through Heade's landscape marks the centuries-old route of a Dutch farmer's flatboat.
I'm with Heade and Brezhnev when it comes to the Meadowlands, now a blatant contradiction of loveliness and industrial waste. As a child I read a magazine article about Secaucus, New Jersey, which was accompanied by a photograph of a woman sunbathing in the midst of the Meadowlands. Her inflatable raft floated down a narrow gap in the tall marsh grass. This landscape fascinated me, in that it was so unlike anything else I'd seen before. When I moved to New Jersey years later, I found myself plastered to the window of the commuter train to Manhattan, gaping at the vast fields of salt hay dotted by seabirds, sunken pilings, and lonely plastic bags. The area was used as a dump throughout much of the 20th century, and while a large swath of it has been reclaimed and protected, it's still a work in progress. Now that I'm familiar with the area, the idea of anyone sunbathing upon its waters is a little alarming. I've seen snow-white herons take flight there, but a three-headed monster rising out of the mud wouldn't be all that out of place either. Supposedly, when Orson Welles' War of the Worlds radio broadcast terrified Americans out of their minds in 1938, many people in North Jersey just assumed that the aliens had landed in the Meadowlands. Obviously.
This post is less an interpretive essay than it is a farewell to New Jersey, where I happily spent the last six and a half years. I should note that "The Garden State" is not a misnomer, as many people believe. Also, those Jersey Shore kids are actually all from Staten Island.